WHAT'S IT WORTH TO HAVE
YOUR FAMILY WALK AWAY
FROM AN ACCIDENT?
Retrofit your aircraft with state-of-the-art peace-of-mind.
WHAT'S IT WORTH TO HAVE YOUR FAMILY WALK AWAY FROM AN ACCIDENT?
Retrofit your Cessna 172/182 with state-of-the-art peace-of-mind.
BRS SAVES LIVES. 376 AND COUNTING.
Hear stories directly from pilots and their families who are alive today thanks to BRS and see some of the dozens of TV news reports and magazine articles.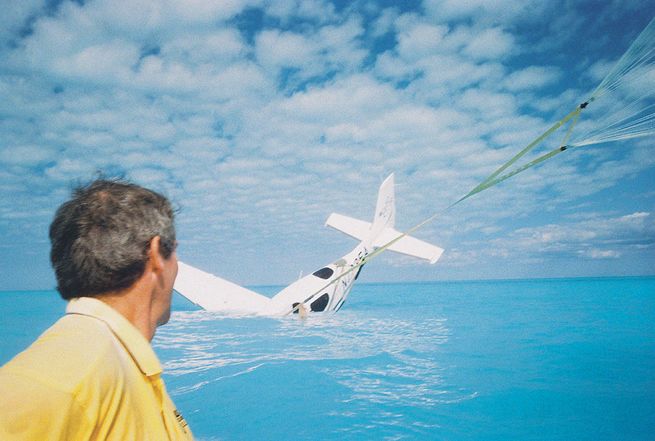 THE FIRST AND STILL THE
MOST TRUSTED.
In 1980, BRS Aerospace founder, Boris Popov, developed the first Whole Aircraft Rescue Parachute System (WARPS). Since then, BRS systems have been installed in over 35,000 aircraft both new and retrofits. BRS worked hand-in-hand with Cirrus Design to develop the Cirrus Airframe Parachute System (CAPS), now standard on every Cirrus SR20 and SR22.
BRS is the only Whole Aircraft Rescue Parachute System certified as a retrofit for Cessna 172s and Cessna 182s.

The BRS Whole Aircraft Rescue Parachute System is packaged in the far side of the baggage compartment and aimed out the rear window, so no significant airframe modifications are necessary.

EASY TO INSTALL.
The growing number of BRS Authorized Cessna Installation Centers are experienced in installing the system in both 172s and 182s.
Or, if you'd prefer, your own A&P can install the system.

AIRFRAME PARACHUTE | CAPS FOR SAFER SKIES.
The original inspiration for the whole-airplane parachute on the Cirrus airplane was a mid-air collision that could have led to tragedy. But instead it led to the creation of the Cirrus Airframe Parachute System® – the most significant safety innovation in over a half-century of general aviation.
From the start of our company, each and every day, the profound passion for everyone at Cirrus is to create safer airplanes, safer pilots and safer skies. Not just for Cirrus pilots, but all pilots. Flying safely will always be our most fundamental mission.
The parachute system is designed to protect occupants in the event of an emergency by lowering the aircraft to the ground after deployment. CAPS revolutionized general aviation safety by providing an additional measure of safety to occupants, similar in theory to the role of seatbelts in automobiles. No other certified general aviation aircraft manufacturer in the world provides this safety feature as standard equipment.
FIRST RESPONDERS
Details for system safety and handling if you are involved in an aircraft incident.
CLICK HERE
BRS AIR SAFETY PHONE
763-226-6110 (U.S.) EMERGENCY ONLY
FIRST RESPONDER VIDEO FOR CIRRUS AIRCRAFT PARACHUTE SYSTEM
CLICK HERE